Import Export knowledge is very important.. if you have enough knowledge about it you can save millions for big companies..  I just attended one training program on "Doing a Business in Singapore" at AMA.
I was late as I was suppose to drop some standees for GDGAhmeadbad Team For our "android bootcamp" event.
Mr. SM Chaturvedi is really a knowledgable person and I found him deeply involved in import/export business.. he has some other programme coming up in AMA itself like doing business in Iran etc.. one day training program are cheap & we can get what we want instead of whole bunch of things which we are not interested in.
Here are few things that I learned today and which I believe are tremendously helpful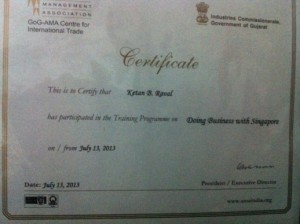 Indians are good for repair & redevelopment
Mr. Chaturvedi shared one great example how one business executive turned 3 years contract on for repairing motors while he was sent to Egypt for selling a motor.. here is a story for that
On big Indian Electric Motor Manufacturing company ssent his sales manager to Egypt as there was specific demand for specific type of motor. When he reached to Egypt & that company executive shown him some fault motors sold by European company. That Europeon company said that it has stopped manufacturing this motor & stopped support for this motor. ( EU always work faster on new things, but Asia & Middle East not that type of market ) So, Egyptian company had no choice either they have to find someone who can repair it or have to buy new orders..  Egyptian company put an offer to this executive that if he repair these 300 motors he can give another order of new motors. Now , at this time Sales executive took a call after checking motor and agreed.  When he got back and finish this 300 motor repairing job successfully .. company got bulk order for repairing motors from Egyptian companies as well as government. And Eventually this indian company booked for almost 3 years for repairing motors J
This is really a great story and it implies we are good at repairing things which are refused by other to touch. May be it is part of our culture lack of innovation but hard work on resource utilization.
I learned another thing
Why Import Duty Check is  Important
here mr chaturvedi put up a good example of one water bottling company. Company imported 15 Million INR Machine from European country and company advisor . board were not aware of custom duty / Import Duty and trade agreement etc..  Company Paid 23% of Import Duty on this machine and later on it find out because of Free Trade Agreement / Preferential Trade Agreement legally company was not suppose to pay a single penny as an Import Duty..  now this thing shocked me and I immediately took a note of this.. my this knowledge will surely help many one who are in import / export business..
Few important words I learned during this session here are those
FTA: Free Trade Agreement
PTA: Preferential Trade Agreement
GSP : Generalize System Preferences
GSTP : Global System Trade Preferences
APTA: Asia Pacific Trade Agreement
Ultimately these are trade agreements, which can allow Indian exporters or importers to do business with fewer duties on selected countries.
What about Doing Business in Singapore For Importers and Singapore?
 Okay, here are few important things that I got from this training session.
)   Singapore is good and huge market for consumer good but they do not prefer Indian exporters for electronic market. Textile and imitation jewellery are exportable items from India to Singapore
2)   Singaporean respect laws so be ethical & only commit which you can full fill
3)   Do not expect formalities like Gift or have dinner etc….Business means business for Singaporean.
4)   Singapore is a Gateway to World Because it has free trade port.. so you can ship to anywhere from Singapore Port ( ofcourse you need to learn bit more about  export )
5)   Singapore Port ships 70 Vessels in a week vs Indian Mumbai Port 7 Vessels per week
6)   Easy Visa Regulations for Indian in Singapore
There are some important talks being held by Indian officials with some countries.. such as Mauritius .. if this trade agreement takes place..  From Mauritous exporters can export to almost entire Africa without any import /export duty or very less import / export duty
Here are some important website to use for import/export & for doing business in Singapore
International Enterprises Singapore
Internation Chamber of Commerce
Cneral board of Excise & Customers