I want to discuss about the foundation about how relationships boosts our business. My friends often ask me about strategy to develop any new startup. I can spend hours talking about choosing in perfect networking events, finding right sales people, training on products and services and much more. But everything boils down within one sentence "Business is built on relationships."
What does that mean actually? Relationships are like two sides of the coin and if you want to a successful one then it needs work. And I look my business relationships as personal relationships and I do care about each and every person as much as I value business. I can point out some.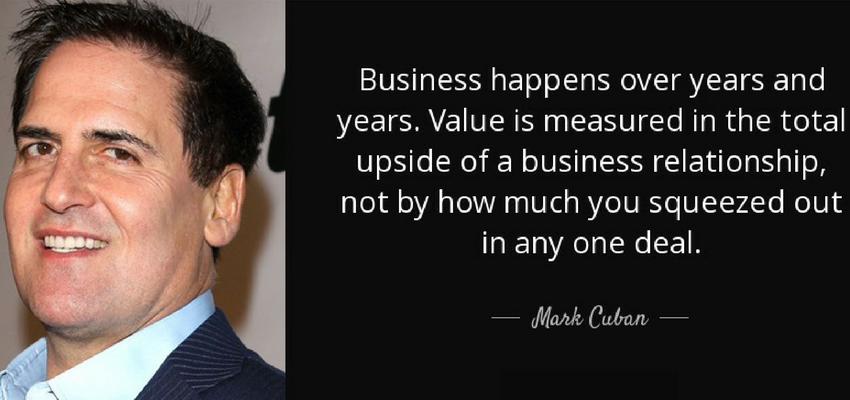 Relate your Client
Here relating to client doesn't mean how product or service is relevant to theirs. Let me explain, it is important to discuss these areas but also it is necessary to know your client on a personal level as well. What I am trying to say is get into some common topic and discuss about it. Many a times we get to caught up trying to negotiate business and we almost forget to get to know the person we are trying to do business with. We have many people having a great business minds and plans, a good product/service but they don't always have someone they like that offers these solutions.
Respond your Client
Always respond genuinely after responding your client. Get them aware that you understood their concerns and convince them to offers best solutions for their problems. I can't elaborate many sales employees, I've watched have failed to respond in the way that they are listening to the client's needs. When we respond in a way that shows we have best interest in mind fills the distance in our relationship.
Align your Solutions with needs of Clients
Elaborate how exactly your products and service offers best applicable solutions, how they fit needs and give them reason why it works better than other alternate solutions. To know this your should be well-versed with your competitors' products/services. And to reveal your solution as a best one, you need to understand their needs better than they do.
Be Reliable
Make yourself available to answer questions smoothly, add value to what they are trying to do. When we are reliable for our clients we can enable them to lean on us with trust. They will question our solution less as they will understand that we will maintain relationship, do not compromise with the value in working with them.
Recover after Setbacks
Each relation has a setback. We are never going to be able to deliver completely on expectations since they will be many unpredicted reasons. Make sure the client knows how important their need it to you. Suggest solutions, work for resolve  and find smooth over the problem. Taking responsibility is not always someone needs, many a times they simply want you not to point a finger and jump in aggressively to find a solution to the problem. When we work to recover from a problem we bring back the trust into our business relationships as we see that we can accept ownership of problems and handle them without any hassles.
Know why your customer opted your solutions
It's important to know what your customers bought rather than what you sold them. And more importantly, it is important to know why they bought it. We think they bought our services because we turned out to be reliable to them or cheaper to them or they had no other offers for them. But the real reason can only be explained by understanding your customer's requirements and the real reason why they want that particular solution.
Obviously, business is built on relationships and if we can build our relationships stronger, our success will grow exponentially.