This is latest study I found from a well-reputed SEO Agency of UK. Study says "twitter can affect your ranking".  More tweets for URL more chances of improvement on Ranking. It  is really an exciting study . It proves that social signals are going to affect SEO Rankings for sure.I love twitter, so I love to track twitter . Always align Twitter Research with SEO & Web Strategy.
Before you go forward to read magic numbers let me list out
This Report can be very helpful to
CRO Consultants
SEO Consultants
Twitter Addicts
Some Twitter Spammers ( As well)
Digital Marketing Consultants
I haven't done any research I am lazy on that point, but I read a lot, which helps me to decide what is right, and what is wrong. So it is implicitly.me backing this research.
Branded 3 has mentioned in its blog about Study Proves tweets do affect ranking. That they started experiment on cool Twitter petition site; Twitition.com.
Twitition is a petition website where you can start petition and ask people to sign on petition. When someone signs a Twitition a tweet is sent from their account.
According to Study Results are fascinating for twittions which has proper title and signature.
Branded 3 Mentioned in blog about what they did "We collected our data from Twitition on 28th February 2012, which included the Twitition short URL; the Twitition's name and title; the Twitition's start date; and the Twitition's number of signatures (tweets)."
When they checked ranking of that petition by taking the first four words from the new Twitition title, and checking the rank for Twitition.com from that one to four word phrase in Google. They found following
| | |
| --- | --- |
| No of Tweets | Avg Google Position |
| Over 500 | 46 |
| Over 1000 | 41 |
| Over 5000 | 31 |
| Over 7500 | 5 |
According to this table it says there isn't significant boost until you reach to 500 tweets. Over 500 tweet for particular URL  slight boost on ranking happened. And when it crosses over 7500 tweets for url ranking secured 5th position in Google.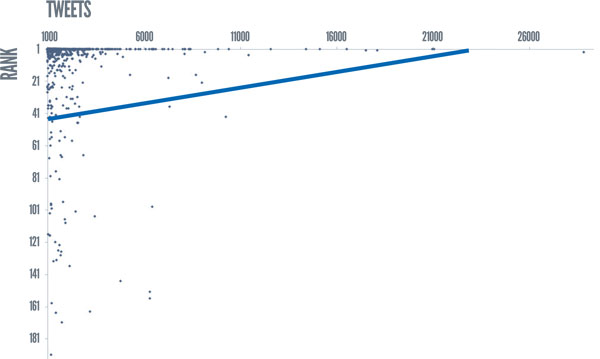 Picture Credit: Branded 3
Yes, we cannot assume that it will work same way for any website but it definitely implicits that there is a correlation between Social Influence and Search Engine Rankings.
Read Original Blog Post Tweets vs Rankings By Branded 3 here & You can Download Study Report