Everyone in Techworld may have noticed Google's latest ambitious product Project Glass, there are some latest update related to this Project .. Project Glass Team has released picture taken from Project glass testing prototype. Image your to the left is captured from Head Worn Camera. On Google Plus Page of Project Glass they mentioned "We announced Project Glass in part to let our team start testing prototypes outside the office."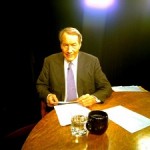 Previously Google gave another glimpse of photo taken from the head worn camera when Sebastian Thrun took a photo with Charlie Rose during a TV interview, and posted it on Google+ were it showed up instantly.
It Seems Project Glass in very early stage of life but one thing is very sure This Project will take Augmented Reality to new level. Google Plus head Vic Gundotra also found wearing Project Glass and late he updated "Having a fun day at work today. Go Project Glass!".
If you have not seen video about Project Glasse here is a Video link for Stunning Project Glass