We have heard lot of things about Search engine optimization and other stuff. ASO ( Application Search Optimization) is something new and it will help mobile app developers to increase outreach of their mobile applications. Recently twitter has made some changes on twittercards and now twitter is offering Card Type: App Cards which can help app development industries to promote app in a better way in Twitter.
What is Twitter Card and why we need that?
Twitter Cards is helping your tweets to go beyond "text" by extracting related media files on twitter timeline.  You might have witnessed YouTube Videos , images , Author information on twitter timeline.   Twitter cards make it possible for you to attach media experiences to Tweets that link to your content.
Simply add a few lines of HTML( Meta tags) to your web pages, and users who Tweet links your content will have a "card" added to the Tweet that's visible to all of their followers. Click on Image to view bigger...

New Card Type App
Previously there were only few Twittercards Summary, Photo, Media now it seems twitter has added couple of more useful ones Gallery and App.;
In App Type , you can specify your application download URL,  App Developer information while sharing link of the content on twitter, so if someone share page of our  Tweet Analysis App  on tweet ( if we implement twitter card for that) , that tweet will contain app developer id , will tell people to download that app directly from play store our iTunes store.
See this image: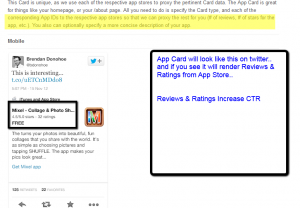 How it will help in ASO ( Application Search Optimization)
Rating & Review in Tweet Timeline will increase CTR
Specific Download Link  Will Increase Download
Opens up a new digital marketing way to increase application marketing.
Social Media is a huge success because it has social connection.. if your friend is using an app and shares it on twitter… there are much more chances that you will download that app sooner or later.